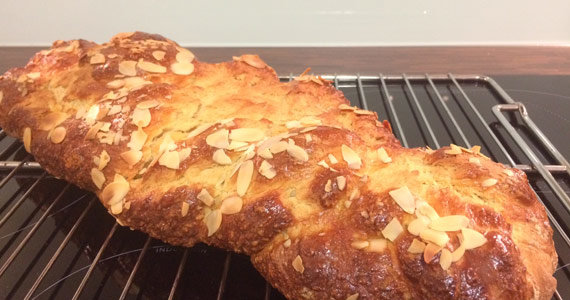 Ingredients:
500 g wheat flour
250 g soft butter
2 sachets dry yeast
75 g raw cane sugar
3 g salt
1 egg and 3 yolks
150 ml milk
Spices:
1 vanilla pod & eine Tonka bean
Preparation:
Heat the milk with the pulp from the vanilla pod and the freshly ground Tonka bean, remove from the heat and cover, allowing the milk mixture to steep. Strain to remove the remainders of the spices before continuing.
Use a dough hook to stir in the soft butter and raw cane sugar, add half of the flour, the dry yeast, eggs & yolks, as well as half of the spiced milk. Knead the ingredients to form a smooth, soft and sticky dough.
Cover and allow the dough to rise for about 30 minutes at 30 °C.
Add the rest of the flour, the salt as well as the remaining milk (heat slightly if necessary) and knead again to form a smooth dough. Cover and allow to rise for another 30 minutes.
Knead the dough again and plait to form a traditional braid. Brush the surface of the braid with a mixture of yolk and water (mix and beat one additional yolk with water 1:1), sprinkle with almond flakes and bake at 180 °C (fan oven) for 40 minutes until golden brown.
The Mader Family at Hotel Kössler, the Hotel Tux Hintertux, says "Bon Appetit"!